Prima review di quello che ho comprato l'
altro giorno
da BIPA. Parto dallo smalto color bronzo.
First review from what I've bought some days ago at BIPA. I started with the copper nail polish.
Qui è con solo una passata. Il colore è semitrasparente, e più adatto a dare un tocco di marrone ad un altro smalto come base che ad essere usato da solo. Sotto vedete anche con luce diretta.
Here is one coat only. It seems like a semi-transparent color, maybe more useful as a top coat to give another nail polish a brownish shade, than as a stand-alone. In the above picture you can see it also with direct sunlight.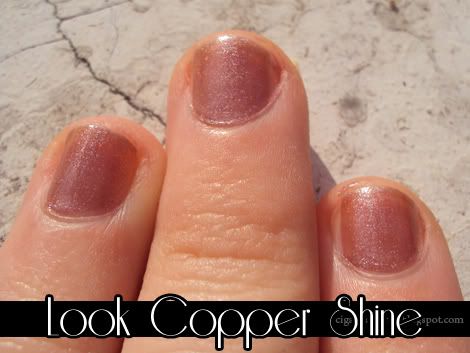 Come potete vedere nonostante la trasparenza non è male. Diciamo che è un colore da tutti i giorni, molto fine. Mettendo due passate comunque (scusate se non ho fatto la foto, ma ho problemi con la digitale!) il colore risulta esattamente come quello della boccetta!
As you can see although the little transparence, that's not bad at all. I can say that it's an everyday color, very subtle. With two coats by the way (sorry for the lack of pics, but I've got some issues with my camera!) the color's exactly the one in the box!